Applicants are required to click "Join" after taking a look at the information bellow.  Please complete the information in an application form.
Admission fee / Annual membership fee
Admission fee: Individual (2,000 JPY), Student (1,000 JPY)
Annual membership fee: Individual (10,000 JPY), Student (5,000 JPY) 
First year membership fee changes depending on the month of subscription.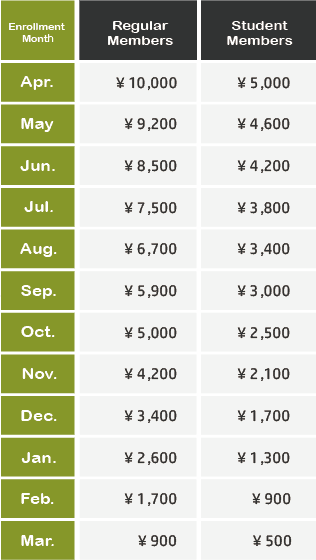 If you join in April, you will be charged an annual membership fee for one year.

Please contact us if you wish to unsubscribe.

Please note that if you withdraw from the membership in the middle of the year, the deposited amount will not be refunded.
A member can submit an original article to the Review of Laser Engineering.
All members receive the monthly journal, The Review of Laser Engineering. The subscription  is included in the basic annual fee.
They can also obtain some benefits through LSJ's cooperation with the academic societies. You can participate (presentation, audition, tour, etc.) for free or at a membership fee for events sponsored (co-sponsored) by the Society, such as study groups, various lectures, seminars, annual academic lectures, and laser exhibitions.

Through interaction with various experts who are members of the Laser Society of Japan, you can obtain a place for consultation between researchers (engineers) regarding laser-related technical information and research themes required by the members.

You can receive the recommendation of the Society when applying for technical awards and research grants conducted by various organizations.

Every year, members selected by the Award Selection Committee will be awarded the Laser Society of Japan Award (Achievement Award, Progress Award, Encouragement Award).

Young members (35 years old or younger) who have presented excellent general lecture papers at the annual conference of academic lectures will be presented with the Excellent Paper Presentation Award and the Paper Presentation Encouragement Award.

The Laser Society of JAPAN
lsj-admin@lsj.or.jp
06-6878-3070
06-6878-3088
一般社団法人レーザー学会
The Laser Society of Japan
  lsj-admin@lsj.or.jp
  06-6878-3070
  06-6878-3088